Sommer
---
Whether you want to hike, do mountain excursions, mountainbike, try adventure sports or just simply relax – in the unique natural landscape of the Tauferer Ahrntal and in the nature park Rieserferner – Ahrn everyone's expectations will be met...
Your summer holiday in Steinhaus / Ahrntal: greatness through simplicity: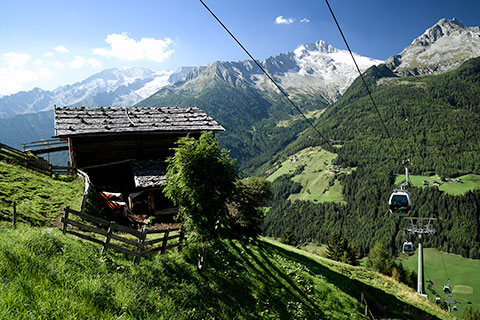 Klausberg and Speikboden cableway
---
Would you like to start your hiking tour from a dizzy height?
Then you can make use of the Klausberg and Speikboden cableways.
Fantastic views and hiking routes will await you, such as the Klaussee lake and the Speikboden panoramic loop trail.
Families with children will enjoy a stay at the waterworld on the Klausberg and marvel at life-size dinosaur statues. For the more adventurous among you, the Alpine coaster and the balance parcour are the right places to experience some thrilling moments.
You will reach the Klausberg valley station in a 5 minutes' walk from our house.
The Speikboden cableways are at 9 km distance. You can use the free scheduled bus service that will get you to the valley station.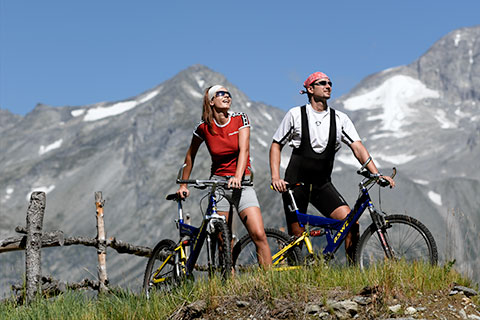 Mountainbiking & Co.
---
Just hop on the saddle and you can start off your bike adventure in the Ahrntal, with more than 50 tours to choose from. There are comfortable tours in the valley plain as well as demanding ones in high-alpine territory. Down-hill enthusiasts will find a number of single trails. Many genuine huts invite the bikers to take a rest and have a snack, and these breaks make the tours even more memorable.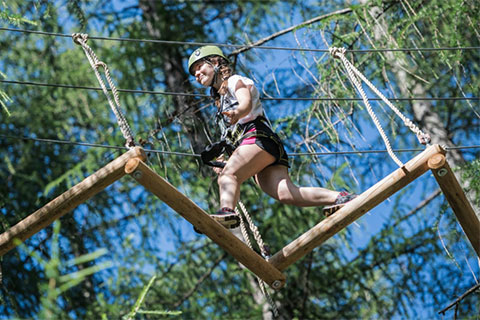 Modern high-rope course in the Ahrntal / Südtirol
---
You can even have fun far up in the treetops in our new and modern high-rope course "Enzwaldile" not far from our house. Young and old can try 9 parcours with different levels of difficulty.
A mini flying fox line is especially attractive for the kids who can practice their first climbing attempts there.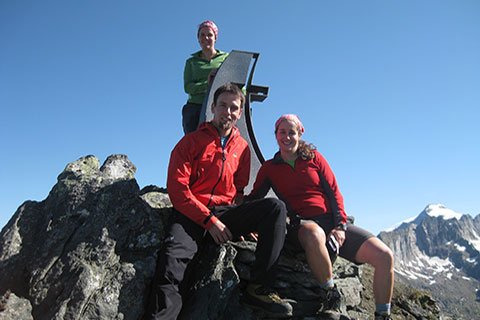 Hiking, trekking and climbing – huts and refuges
---
You will find more than 80, partially glaciated peaks higher than 3.000 m in the Ahrntal on the sunny south side of the Alps. It is stunning scenery for your excursions in all levels, from easy walks to challenging tracks.
You can make extended hikes as far as your feet can take you, enjoying the wonderful mountain landscape with all the beauties of the Rieserferner – Ahrn nature park.
On well-marked trails you reach crystal-clear mountain lakes, cozy huts and impressive mountain summits. Of course you can start your hike directly from our house.
A tour especially suitable for families and beginners is the short hike to the Bizathütte hut. You will reach it in approx. 1.5 h, surmounting 400 m difference in altitude, leaving from our house. The witches' trail and the Frankbach waterfall are fascinating for both kids and adults.
This is only one out of many options you have as the Tauferer Ahrntal boasts more than 60 farmed alpine huts and refuges!